Schedule of Events
| TIME | EVENT | LOCATION |
| --- | --- | --- |
| 7:00 am | GATES OPEN for the 84th time! | EZCC |
| 8:00 am | Highland Dance Registration opens | Dance Secretary Tent |
| 8:30 am -12:00 pm | Solo Piping & Solo Drumming Competitions begin | North East Corner |
| 8:55 am | Town Crier (Doug Turvey) | Dance Stage |
| 9:00 am – 4:00 pm | Highland Dance Competition begins | Dance Stage |
| 9:30 am – noon | Tug-of-War Competition | Tug of War Pitch |
| 9:45 am -10:25 am | Scottish Dogs on Parade | Dog Field |
| 10:00 am – 6:00 pm | Local Craft Brew Gardens open | South East Field – Bar |
| 10:00 am –2:00 pm | Children's Scottish Crafts | Great Hall |
| 10:30 am -11:30 am | Heavy Events-30lb Stone Throw followed by Open | Heavy Events Field |
| 11:00 am | Dog Agility Demonstration #1 | Dog Field |
| 11:00 am -12:00 pm | Live Celtic Music: The Paddy Stones – Set # 1 | SE Field – The Muckle Tent |
| 11:30 am -12:00 pm | Alex McKay: Zorra's 1893 Tug-of-War World Champions | Great Hall |
| 11:30 am – 12:00 pm | Heavy Events – Light Weight for Distance | Heavy Events Field |
| 12:00 pm – 3:00 pm | Scottish Tea Room by Knox Presbyterian Church | Arena Lobby |
| 12:30 pm -1:15 pm | Official Opening & Massed Bands | Main Field |
| 1:15 pm – 2:15 pm | Entertainment showcasing Taiwanese Culture | Great Hall |
| 1:15 pm -4:00 pm | Highland Dance competition resumes | Dance Stage |
| 1:15 pm -2:00 pm | Live Celtic Music: Mudmen – Set # 1 | SE Field – The Muckle Tent |
| 1:15 pm | Dog Agility Demonstration # 2 | Dog Field |
| 1:30 pm – 2:30 pm | Heavy Events – Scottish Heavy Hammer Throw | Heavy Events Field |
| 1:30 pm | Pipe Band competitions begin | East end of the Main Field |
| 1:30 pm – 4:00 pm | Tug-of-War competition resumes | Tug of War Pitch |
| 2:00 – 3:00 pm | Live Celtic Music: The Paddy Stones – Set # 2 | South East Field – Muckle Tent |
| 2:15 pm – 3:00 pm | Father Bill White Speaks on "Kilts Online" | Great Hall |
| 2:30 pm – 3:45 pm | Heavy Events – Caber & Challenge Caber | Heavy Events Field |
| 3:15 – 4:00 pm | Live Celtic Music: Mudmen – Set # 2 | South East Field – Muckle Tent |
| 3:45 pm – 4:15 pm | Heavy Events – Weight for Height | Heavy Events Field |
| 4:00 pm – 4:30 pm | Live Celtic Music: The Paddy Stones – Set # 3 | South East Field – Muckle Tent |
| 4:30 pm | MASSED BANDS | Main Field |
| 5:00 pm – 5:45 pm | Live Celtic Music: Mud Men – Set # 3 | SE Field – Muckle Tent |
Open For the Entire Day
Visitors' Tent – see Site Map
Clans & Vendors – see Site Map
Scottish Livestock Display – see Site Map
Oxford Weavers & Spinners Guild – near Gate # 4
"Selfie" Boards – in various locations across the Grounds (look for all 9)
Great Hall Exhibits: The Taiwanese Legacy of George Leslie Mackay; Tartans on Display; The Mighty Men of Zorra; Embro Highland Games; Zorra Heritage
Location Information
Embro Zorra Community Centre
355644 35th Line
Embro, ON
N0J 1J0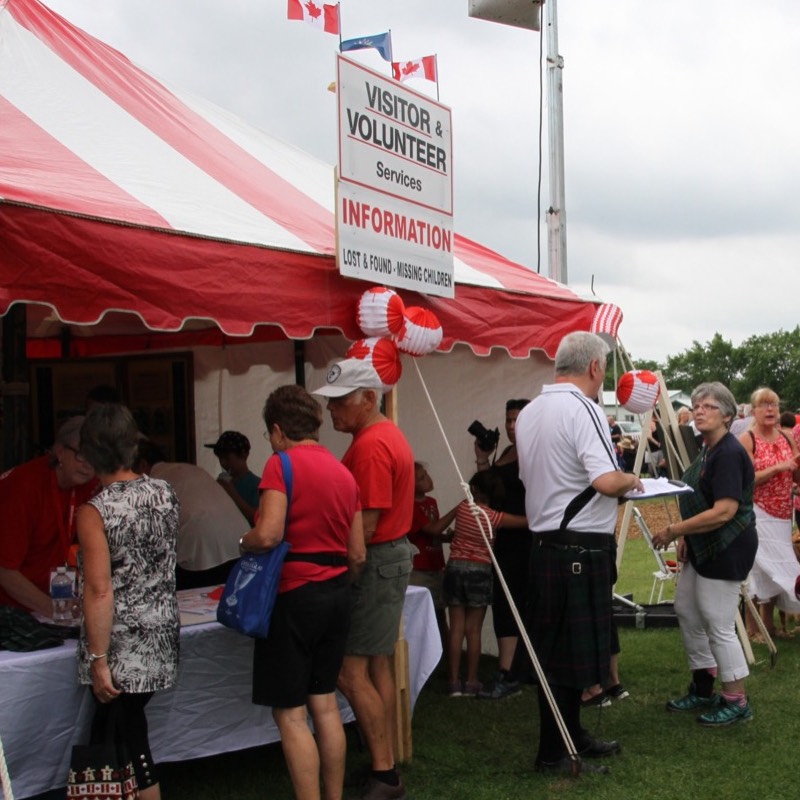 Visitors' Tent
The friendly staff at the Visitor and Volunteer tent are more than happy to help you with any questions or concerns that you may have. Report any items that have been lost or found to a staff member at the Visitors' Tent.
Snap a photo at one of the "selfie boards", or get up close and personal with a set of bagpipes. If you're looking for a souvenir to remember your amazing day out at the Games, check out the beautiful Embro Highland Games T-shirts and baseball hats!
General Admission
Enjoy a day full of Scottish fun and tradition that will be sure to entertain and thrill you. With family-friendly events throughout the day, there is something for everyone! Purchase your tickets online and save!
Shop Embro Highland Games
Show your pride for Embro Highland Games with these T-shirts and Hats.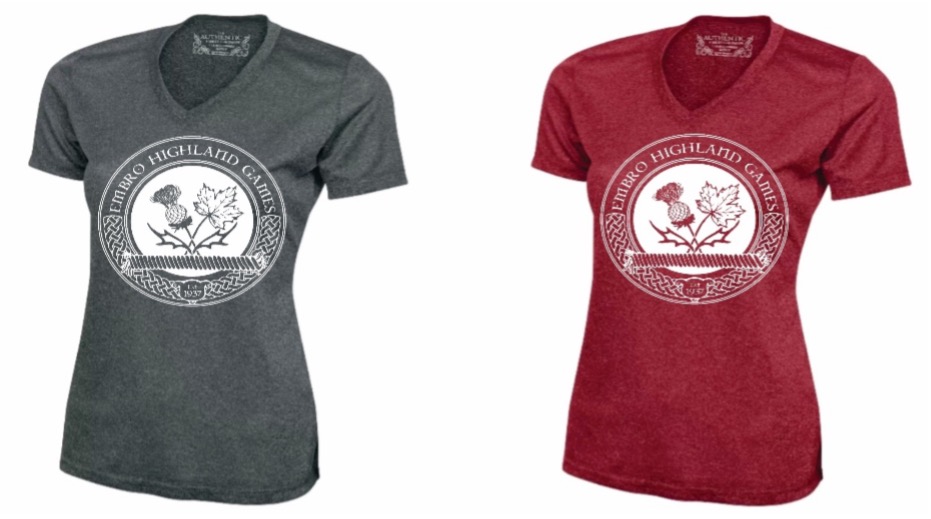 Zorra Caledonian Society's Official Tartan
This tartan was commissioned in 2012 to commemorate the 75th anniversary of the Zorra Caledonian Society, organizer of the Embro Highland Games.
It was received by the Scottish Register of Tartans for permanent preservation in the National Records of Scotland.
Our Tartan is available for purchase by the yard, scarf, kilt or other tailored items by contacting via email.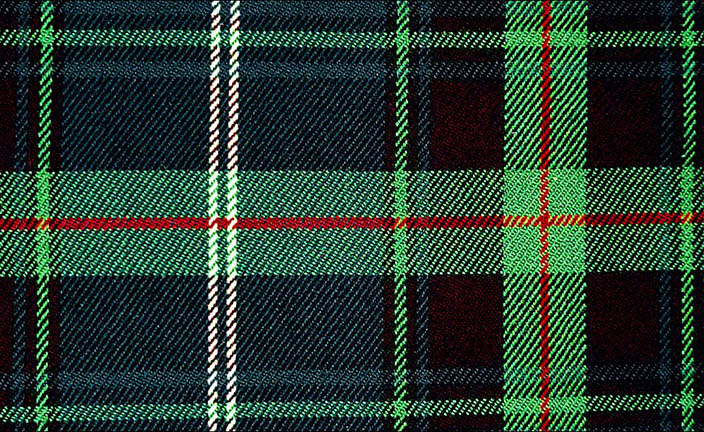 Frequently Asked Questions
I am interested in volunteering.  How do I get involved? 
We love volunteers! Please send an email with your contact information to [email protected] and let us know you would like to help. Please indicate if there is a certain area of the Games that interests you.
Are dogs allowed on the grounds at the Games?
Yes. Dogs are allowed provided that they are on a leash at all times and are picked up after of course. We also ask that dog owners be mindful of the other animals that are part of the attractions of the Games (sheep, agility dogs, livestock) as to not distract.
Do you take Debit/Credit cards?
Yes. Many of our Vendors accept debit/credit.  We have debit machines at the main entrance; however, service is dependent on wifi connectivity. There is also an ATM located in the lobby of the Community Centre. *N.B. This year, guests may purchase tickets online prior to the Games.
Is there parking on the Grounds?
Yes. Parking is free on the grounds and you will be directed by our parking attendants to the next available parking spot.  There are designated handicap spaces reserved as well. We also offer golf cart rides to shuttle guests with mobility issues to and from their vehicles.
Are the Grounds accessible?
Yes. The entire area is one level. There are accessible washroom facilities at various locations on the grounds.
What should visitors bring to the Games?
Visitors are encouraged to bring their own lawn chairs as many of our events take place in open grassy areas. We also encourage reusable water bottles.
Is this a licensed event?
Yes. Only alcohol purchased from our licensed vendors is permitted on the grounds. We are happy to say that the entire Grounds are licensed so visitors to the Games may enjoy their purchased beverages while enjoying all of the attractions, or while having a seat in the Outdoor Bar listening to our live entertainment.
Do I get refunded if the weather is bad?
No. Our event will run – rain or shine! So bring an umbrella if the forecast looks bad. We do not offer refunds.
What is the cost of admission? 
The cost for adult admission is $25.00 ($22.50 or you purchase online); youth tickets are $10.00; children under 12 are FREE! You may pay for tickets at the gate on the day of the Games.
What is included in the cost of admission? 
Once you have paid to get inside the gates, all attractions, including the live music concerts are included!  You may of course decide to purchase food, beverages and souvenirs at your own additional cost.
Will there be food and drink available to buy?
Yes.  There will be a variety of food trucks and concessions available. There is also an Outdoor Bar located back by the Muckle Tent where you can purchase beer and alcoholic beverages. You may enjoy these refreshments while walking around our fully licensed grounds or find a spot to sit and listen to our wonderful live entertainment. 

Can I bring my own food & drink?
You may bring your own food and drink provided that the drinks are non-alcoholic. Our liquor license does NOT permit any alcoholic beverages from outside the Games that are not purchased on site.

Is there a Lost & Found area?
Yes. All lost and found items will be returned to the Visitors' Tent located just inside the entrance gates.